One of my favorite things about visiting Los Angeles is Hollywood Hills hiking in the mountains above the city.
Runyon Canyon is the famous park in the hills where celebrities often walk their dogs. Griffith Park is a massive city park that houses the Griffith Observatory, the Greek Theatre, the zoo, 45 holes of golf and 27 tennis courts, plus numerous hiking trails. At more than 4300 acres, Griffith Park is more than five times the size of NYC's Central Park.
Both are great places to spend a few hours, preferably in the morning before it gets too hot, or in the evening to watch the sunset. Here's what you can expect to see in each park if you decide to go hiking.
And while you can no longer see the famous Griffith Park P-22 mountain lion, we've got some information about him, too.
Hollywood Hill Hiking: Runyon Canyon Sights
Famous-looking people who may or may not be celebrities
Though I always try my hardest, I have never spotted a celeb in Runyon Canyon. But that's mainly because I'm the world's worst celebrity stalker.
They're here all the time, everyday, in disguise. Google your favorite movie or tv star along with "Runyon Canyon" and you'll probably find pics of them here. So keep your eyes open.
Pets all over the place
If you're a dog lover this is the park for you. Much of the trail is an off-leash area, and even the park marked "on-leash" is not respected as such, so expect lots of puppies to be wandering around as you hike.
Great views of L.A.
The Hollywood sign, the Capitol Records building, the downtown skyline. You can see them all from up here. Make sure to bring your camera.
Besides views of the skyline and the city, Runyon Canyon offers a peek at some of the ritzy houses in the Hollywood Hills. I've decided I must own this property:
Griffith Park Sights
Famous movie locations
As I learned during a guided walk with Bikes and Hikes LA, Griffith Park is the place to find a lot of Hollywood history. You can see landmarks from iconic films and shows, like the entrance to the Batcave as seen in the original Batman tv series.
The cool thing about the Bikes and Hikes tour is that they'll show you photos and video clips of movie scenes that were filmed in the exact spots you're hiking.
Close up of Hollywood sign
The Hollywood sign is seen from close range in Griffith Park. You can even hike right up to the sign if you're so inclined.
The Griffith Observatory
The Griffith Observatory and planetarium are must-sees when you're visiting Los Angeles.
Check out everything from a bust of James Dean (in honor of Rebel Without a Cause, which was filmed here), a selection of meteorites, giant telescopes to view the stars, and much more.
Possible wildlife
There's wildlife up here, including deer, plus some really dangerous stuff you might not expect to find in the heart of L.A., like coyotes, mountain lions, and rattlesnakes.
For years, Griffith Park was home to the mountain lion named P-22. Though rarely seen, this animal was well-known by big cat watchers and became a minor celebrity.
His 8-square mile range was far smaller than the range of most mountain lions, but he managed to survive there for a long time, before injuries and illness did him in.
Visit Save LA Cougars for info on all the mountain lions in the southern California.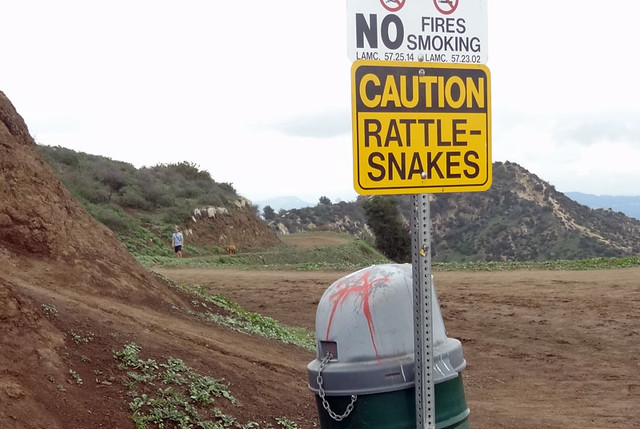 The coyotes here aren't dangerous to humans, but they've been known to snatch up tiny little dogs who wander away from their owners.
I spotted a couple of coyotes running across the road at night – my first coyote sighting and one of my favorite wildlife encounters ever.
When you visit Los Angeles, try to step away from the Hollywood craziness and make the trek up to Runyon Canyon or Griffith Park. The journey is totally worth it.
Have you ever gone Hollywood Hills hiking?