Welcome to Ocean Beach! My favorite thing about San Diego is the water. The beaches, the surfing, the sailing. I know lots of cities revolve around water, but San Diego seems to take things to an awesome extreme, thanks to its lengthy coastline along the Pacific Ocean.
As someone who has been landlocked for most of my life, I love this part of San Diego life. During my most recent visit to "America's Finest City," I spent several days just hanging out by the water. Maybe I was a sea gull in a past life.
Visiting Ocean Beach, San Diego
I stayed in the Ocean Beach neighborhood for a few days and fell in love with the chilled-out, almost hippie vibe. The storefronts captured the laid-back beach lifestyle of the hood, with lots of surfing supply stores and businesses like indie yoga. Sign me up for that.
The Westfalia parked on the beach made me nostalgic for my own van. Imagine sleeping inside this as you drift off to sleep to the soothing sound of waves just feet away. That seems like paradise.
This was my favorite character at the beach. I want that tweed jacket.
These birds almost look photoshopped. They snuck into the picture at the last minute.
Time to hit the waves.
This fellow wins the award for coolest board.
Not everyone goes to the beach to swim or surf. How about fishing or volleyball?
Some go to skate or to sit and look cool.
Ocean Beach has a massive pier with a cafe more than 1/2 mile out into the ocean.
The pier provides some amazing views.
Pics from Sunset Cliffs and Pacific Beach
Further down the coast is Sunset Cliffs, a steep hillside where you can meet your demise if you're not careful.
How amazing is this? Guy works on his laptop on the cliffs. Tell me you're not jealous.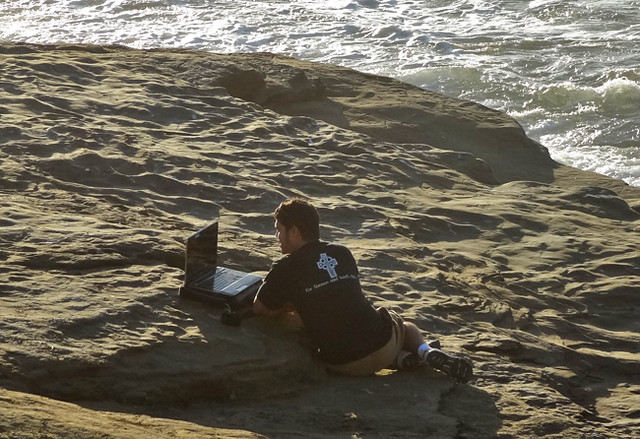 These guys aren't scared off by the cliffs. I saw more surfers here than anywhere else.
More awesome views from Sunset Cliffs, San Diego.
I'd be willing to live in one of the beachfront houses. How about you?
There's a running and biking trail here that gets a ton of use. Lots of locals bring their pets too.
As its name implies, Sunset Cliffs is the most popular viewing spot to watch the sunset.
Pacific Beach was more of the same, folks enjoying the sun and sand. Or the shade, in some cases.
Lifeguard golf carts!
This sign from my hostel pretty much summed up the San Diego experience for me. If you're lucky enough to be at the beach, you're lucky enough!
Have you visited Ocean Beach or Sunset Cliffs?