San Diego, California is home to some of the best beaches in the world. From the scenic rocky cliffs in La Jolla to the wide, sandy beaches at Mission Beach and Ocean Beach, this city has it all.
I've visited San Diego several times, and I always make sure to set aside some beach time. The sun is reliable year-round, the sand is soft, and the temperature is usually hot, but not scorching. That makes the city one of the best spots for beach time in the country!
What are the best beaches in San Diego? Read on for my own personal favorites, and several more of the most popular San Diego beaches for tourists and locals. All photos taken by by Quirky Travel Guy.
As always, make sure to bring plenty of sunscreen, water, snacks, towel, and possibly an umbrella or volleyball.
Top Rated Beaches in San Diego
Here's the rundown of favorite beaches in San Diego. I'm using the term "beach" liberally, to include any part of the ocean coastline, ranging from wide, sandy beaches to rocky cliffs.
Basically, these are all the best spots, in my opinion, to view or play in the ocean while visiting San Diego.
Mission Beach
Mission Beach is awesome. Come here if you want to have a real California beach experience. You'll find a boardwalk, a wide, sandy beach, and lots of restaurants and shops nearby.
It does get crowded here on weekends, but the beach is more than one mile long, so there's enough space to spread out.
There's even a roller coaster next to the beach called the Giant Dipper! The wooden coaster was built in 1925 and is part of the Belmont Park amusement park.
Ocean Beach
Ocean Beach is a good time. Not just the beach, but the neighborhood itself. It has a laid-back, hippie kinda vibe that just feels cool.
The beach is a mile long, and the northern end has volleyball courts and Dog Beach, the only 24-hour beach for pets to run around off-leash in San Diego.
Ocean Beach also has a massive pier with a cafe more than 1/2 mile out into the ocean. What a unique place to eat lunch!
Pacific Beach
Just north of Mission Beach, Pacific Beach is another lively beach that is popular with locals and tourists. If you're looking for a fun day out, rent a bike or a skateboard and cruise along the boardwalk.
The waves at Pacific Beach are often good for surfing, so be sure to bring your board if you're a surfer.
Coronado Beach
The gorgeous Coronado Beach is known for its soft, white sand. The beach is wide and long, making it perfect for a stroll along the water or a game of frisbee.
The water at Coronado Beach is calm and clear, so it's a good spot for swimming and paddleboarding.
The beach is located near the historic Hotel del Coronado. Be sure to check out the architecture of the beach resort while you're here!
Sunset Cliffs
Sunset Cliffs Natural Park covers 68 acres and extends more than a mile long on the coast. The naturally rugged coastline makes for some fascinating pictures. It's one of the coolest-looking areas of the city.
The Sunset Cliffs area isn't great for swimming, because as you can see, there isn't a lot of sand. But it's a must-visit because of the impressive nature of the natural features.
This is where you come to surf or simply sit on the rocks and admire the ocean scenery. It goes without saying that sunsets are epic here.
Moonlight State Beach
Moonlight State Beach is a popular spot for families because of its sizable beach and calm waters. The beach is located in Encinitas, 30 minutes north of Downtown San Diego.
The beach has nice bathrooms restrooms, showers, a snack bar, and a playground. Lifeguards are on duty during the summer months, making it a safe place for kids to swim and play.
Moonlight State Beach also offers a concession to rent umbrellas, boards, and wetsuits. The parking lot can get crowded on busy days.
Black's Beach
Officially known as Torrey Pines City Beach and Torrey Pines State Beach, Black's Beach is a world-famous surf spot.
It's known for powerful waves that can reach up to 30 feet high, although this obviously varies by day and time of year.
When I last visited, there were virtually no waves, which bummed out some dudes who had brought their boards.
Black's Beach is unique in several ways. It has stunning cliffs that provide an impressive backdrop to the surf. There's a gilderport atop the cliff where paragliders frequently take off from, using the strong winds to hover above the beach.
Getting to the beach requires hiking down a steep trail, so it's not for folks with mobility issues. The flipside is that it's far less crowded than the more accessible beaches closer to the heart of San Diego.
And the northern end of Black's Beach is known as one of the largest and most popular nude beaches in the U.S. If you love baring it all under the sun, don't miss this place!
Silver Strand State Beach
Another great option for families, Silver Strand State Beach can be found in Coronado. The gentle waves make it a good place for playing beach games and swimming.
This beach is not free – a day use pass costs $12 to $20 depending on season. Visitors may bring dogs, but only in the parking lot and campground, not the beach itself.
Silver Strand has an RV campground, a unique feature that makes it stand out from other San Diego beaches.
La Jolla Cove and Children's Pool Beach
These two La Jolla beaches, just a 10-minute walk apart, are not ideal for swimming. But they're perfect for viewing seals and sea lions, which have taken over these two beaches.
Tourists come by the hundreds to see the animals waddle around on the rocks and shore. Years ago, Children's Pool used to be a popular beach for families with small kids, but these days, the sea lions run the place.
The water is fairly clear here, so while these aren't popular swimming beaches, some people do snorkel at La Jolla Cove.
La Jolla Shores Beach
La Jolla is notorious for its rocky cliffs along the coast. La Jolla Shores Beach has the best wide sandy beach in this area for laying in the sun or swimming.
In the summer, waves here tend to be calmer than any other San Diego beach. Snorkel or scuba in the clear waters if you're so inclined. The beach has a playground, showers, and volleyball courts.
Oceanside City Beach
Forty-five minutes north of downtown San Diego, the city of Oceanside has a beautiful beach with everything you could possibly need: four miles of coastline, restrooms, lifeguards, a busy pier with a diner, and The Strand, a pedestrian-friendly avenue of shops.
While you're here, walk to the nearby California Surf Museum, a surprisingly thorough journey through the history of surfing.
Frequently Asked Questions
What is the prettiest beach in San Diego?
It's almost impossible to pick one. For natural beauty, La Jolla Cove may be the prettiest beach in San Diego, with its rocky cliffs overlooking the ocean.
I also like Mission Beach and Pacific Beach, for the simple beauty of a long, flat beach with soft sand that extends for miles.
What should I watch out for at these beaches?
Be sure to check the weather conditions and tide schedules. Some beaches are better for swimming, while others are better for surfing or sunbathing.
Some beaches have strong rip currents and/or difficult hikes down a cliff to reach the sand. Pay attention to warning signs and only swim in designated areas.
Many of these beaches have stingrays that like to hover just underneath the sand in shallow areas of the ocean.
Swimmers are advised to shuffle their feet along the bottom while entering the water. That way, any rays in the area will feel and hear you coming and vacate the area so you don't step on them.
What is the safest beach in San Diego?
Most of San Diego's beaches are monitored by lifeguards, making them relatively safe for swimming and other water activities.
Coronado Beach is considered one of the safest beaches in San Diego due to its calm waters and gentle waves.
It's also "safe" in that it's in a fairly nice neighborhood, so your belongings may be more secure in your bag or vehicle than at some other beaches.
What beach is good for swimming in San Diego?
Some San Diego beaches are better suited for swimming than others. La Jolla Shores Beach and Coronado Beach are two that rank highly for swimming potential, since both tend to have calm waves.
What is the best beach to lay out or sun tan in San Diego?
If you're looking to soak up some sun and relax on the beach, you can't go wrong with any of San Diego's beaches.
However, Pacific Beach and Mission Beach may be the best choices for sunbathing and lounging, given that they have so much space to spread out and catch some rays.
What beach in San Diego has the cleanest water?
La Jolla Cove and Coronado Beach are both known for their clear waters, making them good options for swimming and snorkeling.
What's the best San Diego beach town?
Each San Diego beach town has its own unique character. However, I agree with the prevailing consensus that La Jolla ranks as the best beach town in San Diego.
Not only does it have those stunning sea cliffs and abundance of wildlife, but La Jolla has some awesome local shops and upscale restaurants with ocean views. Try Duke's for good Hawaiian food!
What are some good secluded beaches in San Diego?
Windansea Beach and Marine Street Beach, both in La Jolla, are somewhat secluded beaches accessible by steep staircases. That results in smaller crowds.
Surrounded by cliffs, these beaches are great spots for surfing, tide pooling, or sitting on the beach and taking in the sunset.
What other beaches are worth visiting?
The San Diego area has a number of other popular beaches that aren't featured on this list. You may want to consider also Solana Beach, Law Street Beach, Fletcher Cove Beach Park, Carlsbad State Beach, Cardiff State Beach Park, or Imperial Beach (just five miles from the Mexican border.)
If you're willing to drive a bit futher, Trestles Beach has great surfing, with separate areas ideal for beginners and experienced surfers.
More Photos From San Diego Beaches
Every time I visit "America's Finest City," I spend several days just hanging out by the water. Maybe I was a sea gull in a past life.
I stayed in the Ocean Beach neighborhood for a few days and fell in love with the area. Ocean Beach is one of my favorite neighborhoods in San Diego.
The Westfalia parked on the beach made me nostalgic for my own van. Imagine sleeping inside this as you drift off to sleep to the soothing sound of waves just feet away. That seems like paradise.
This was my favorite character at the beach. I want that tweed jacket.
These birds almost look photoshopped. They snuck into the picture at the last minute.
That's a stylish wet suit!
Not everyone goes to the beach to swim or surf. Some go to skate or to sit and look cool.
Here's a view of that cafe 1/2 mile out on the Ocean Beach pier. This is your chance eat a meal out in the ocean!
When the weather is nice, hundreds of folks will be out enjoying the weather on the pier.
The pier provides some amazing views.
Further down the coast is Sunset Cliffs, a steep hillside where you can meet your demise if you're not careful.
How amazing is this? Guy works on his laptop on the cliffs. Tell me you're not jealous.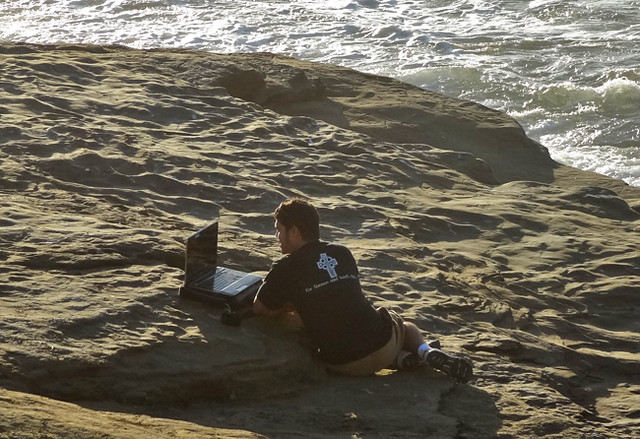 There's a running and biking trail here that gets a ton of use. Lots of locals bring their pets too.
As its name implies, Sunset Cliffs is the most popular viewing spot to watch the sunset.
Sunset was just as cool at Black's Beach. The glider definitely had the best view though!
How about the lifeguard golf carts at Pacific Beach?!
Mission Beach had a lot of fun sights, starting with the famous roller coaster near the beach.
I love walking the boardwalk at Mission Beach.
You can bike the boardwalk too. Don't worry about bringing a bicycle – just rent one from the shop.
The pedestrian overpass to Oceanside City Beach is pretty fancy.
Carlsbad State Beach has so many volleyball nets set up!
This sign from a nearby hostel pretty much summed up the San Diego experience for me. If you're lucky enough to be at the beach, you're lucky enough!
San Diego has so many great places to visit, including the Maritime Museum, the Cabrillo Monument, the San Diego Zoo, and the famous kissing sailor statue.
Further away, you can find the International Friendship Park border fence that connect San Diego and Tijuana.
I also have articles on the now-defunct Horton Plaza shopping mall. And I have a guide for the long road trip between San Diego and Seattle.
What do you think are the best beaches in San Diego?