Here it is, our collection of pictures from Cuba that show several different sides of life on the island. When I think about my trip to Cuba, one of the lasting memories I have is the image of bands playing in restaurants and bars. They were everywhere, in all the towns I visited, adding to the ambience and experience.
Another interesting thing I noticed in Cuba was a handful of barbershops on people's front porches. In a country where the temperature is always sweltering, being outside in the shade is often cooler than being indoors. So it makes perfect sense that all the barbershops are on porches.
These were just two of the fascinating images from my week on the island. Scroll down for a few dozen more images of Cuba in this closer look into the lives and the landscapes of the country of Cuba.
Havana Photo Essay: Pictures from Cuba
The city wall in Havana was built in the late 1600s to protect against pirate attacks. It utilized moats and gates. Today, a small fragment still remains in Old Havana:
Old Havana is a scenic place because of all of the old buildings. You feel like you're experiencing history walking around in this part of the city.
The beaches in Cuba were some of the most beautiful I have ever visited. Especially the warm waters of Cayo Jutias, the starfish beach.
Tourists wander through a street market in Viñales:
Buy some stereotypical Cuban items at the market!
Another outdoor art market in the Vedado neighborhood of Havana:
A produce market in Centro Habana sold the biggest avocados I've ever seen. They were only 10 CUP each, which works out to 50 cents U.S.!
Here's one thing Cuba does better than the U.S. Their stoplights have countdowns that let drivers know how many seconds until the light turns green!
Another shot of scenic Viñales Valley:
The view from the front seat of one of Havana's many taxis.
For a cuter way to get around town, take a ride in a cucu taxi!
A couple of aerial shots of Cuba from the airplane leaving the country:
Old Havana photos are some of the more interesting pics I captured.
Almost every country has street art, and Cuba is no exception. These Havana street art pictures are just a couple of the many pieces of street art I encountered during my visit.
Classic American cars are still in use all throughout Cuba. I took a city tour in a '56 Chevy convertible. You can book classic car tours that will show you pretty much the entire city of Havana in less than two hours.
Scroll down to see more Cuba photography and pictures from Havana. Enjoy the rest of the photo essay!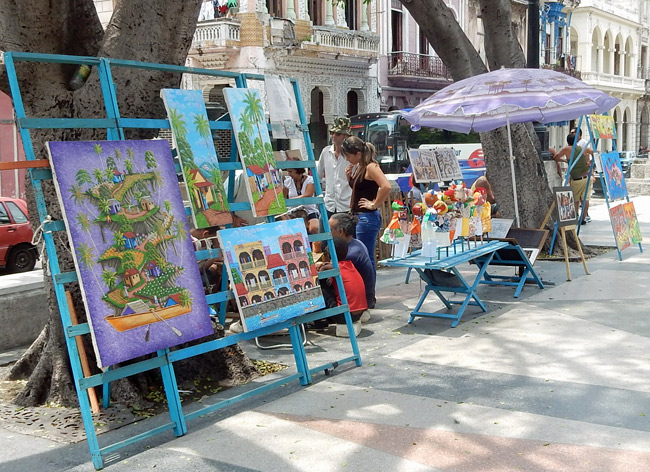 Here's another source for images of Havana and Cuba photography. Cuba is clearly a photographer's dream since there are so many interesting and unique sights to capture in Old Havana and beyond.
And don't forget to check out our in-depth guide to visiting Havana.
Which are your favorites pictures from Cuba?