Here it is, our collection of pictures from Cuba that show several different sides of life on the island. Of course, these pics are skewed because they're taken from a tourist's perspective. As with all countries, there are many folks struggling to get by and their lives are not going to be as glamorous as this.
When I think about my trip to Cuba, one of the lasting memories I have is the image of bands playing in restaurants and bars. They were everywhere, in all the towns I visited, adding to the ambience and experience.
Another interesting thing I noticed in Cuba was a handful of barbershops on people's front porches. In a country where the temperature is always sweltering, being outside in the shade is often cooler than being indoors. So it makes perfect sense that all the barbershops are on porches.
These were just two of the fascinating images from my week on the island. Scroll down for a few dozen more images of Cuba in this closer look into the lives and the landscapes of the country of Cuba.
Havana Photo Essay: Pictures from Cuba
The city wall in Havana was built in the late 1600s to protect against pirate attacks. It utilized moats and gates. Today, a small fragment still remains in Old Havana:
Old Havana is a scenic place because of all of the old buildings. You feel like you're experiencing history walking around in this part of the city.
The beaches in Cuba were some of the most beautiful I have ever visited. Especially the warm waters of Cayo Jutias, the starfish beach.
Another shot of scenic Viñales Valley:
The view from the front seat of one of Havana's many taxis.
For a cuter way to get around town, take a ride in a cucu taxi!
A couple of aerial shots of Cuba from the airplane leaving the country:
There's also a gay beach near Havana, which was surprising.
Tourists wander through a street market in Viñales:
Buy some stereotypical Cuban items at the market!
There's so much culture and art in Havana. Another outdoor art market in the Vedado neighborhood of Havana:
A produce market in Centro Habana sold the biggest avocados I've ever seen. They were only 10 CUP each, which works out to 50 cents U.S.!
Here's one thing Cuba does better than the U.S. Their stoplights have countdowns that let drivers know how many seconds until the light turns green!
Old Havana photos are some of the more interesting pics I captured.
Almost every country has street art, and Cuba is no exception. These Havana street art pictures are just a couple of the many pieces of street art I encountered during my visit.
Some parts of Havana may look gritty, but crime and scams aren't a huge concern in Cuba.
Classic American cars are still in use all throughout Cuba. I took a city tour in a '56 Chevy convertible. You can book classic car tours that will show you pretty much the entire city of Havana in less than two hours.
11 Cultural Scenes from Cuba: Art, Music, Food, History, Festivals
I had no idea what to expect when I visited Cuba. One thing I definitely was not expecting was a vibrant music and arts fair that reminded me of the street festivals back in Chicago.
During our first full day in Havana, while walking around the Vedado neighborhood, we stumbled upon Arte en la Rampa, an event that takes place six days a week throughout the summer. Hundreds of locals gathered to watch the live music and shop for handmade items in the merchant booths.
I felt an immediate cultural connection to Cuba when I realized this event was exactly like so many others I have attended back home.
Among the items for sale were tshirts, jewelry, and wallets with the face of Che Guevara. Arte en la Rampa was just one of the cultural discoveries that made my trip to Cuba so memorable. These 11 short scenes should provide a good sense of the culture and life of Cuba.
Soaking in the history of Plaza Vieja
Plaza Vieja in Old Havana was the home of several art sculptures. One of them was "bald woman riding a giant rooster." That's not the official title. I'm sure there must be some sort of deeper meaning behind the sculpture.
Built in 1559, Plaza Vieja supposedly used to host bullfights, executions, and various other events deemed important enough for the upper class local residents to witness from their balconies. These days, it's just a beautiful open space.
I really wanted to visit Camara Obscura, which sits in one corner of the plaza. The roof of the 115-foot building is where you'll find awesome 360-degree aerial views of Havana. Unfortunately, I visited during the anniversary of the revolution that brought Fidel Castro to power.
It was a national holiday in Cuba, and many state-run establishments were closed for a few days. Though my local host assured me that a tourist attraction like Camara Obscura wouldn't be closed, it was.
The art and music of Callejon de Hamel
Before the trip, I was looking for cool places to go in Havana and read about this hole-in-the-wall artsy alley called Callejon de Hamel. Little did I know this place was just one block around the corner from the casa particular where I was staying.
Callejon de Hamel is the place to find art and music from Havana's Afro-Cuban population. On a Sunday afternoon, seemingly everyone on the island who had dreadlocks was there, along with loads of tourists. People drank cheap beer and enjoyed the live music while enjoying the art of Salvador González.
The sudden rainstorm in Old Havana
The skies were overcast on my final day in Havana, when I walked from El Centro to Habana Vieja (Old Havana). But I was not expecting a downpour that came out of nowhere.
As I strolled through streets where owners of tiny shops peddled magnets and assorted trinkets to tourists, suddenly I was in a shower with all my clothes on.
I joined a bunch of folks who took cover under the awning of a small home goods store. The employees didn't seem to mind the crowd of people who had gathered, even though we clearly had no intention of buying a blender or mixer and instead were blocking the entrance.
After less than 10 minutes, the rain went away, just as suddenly as it had started, and everyone resumed their day.
The ice cream parlor where people wait in line for two hours
I have a well-known obsession with ice cream, which proved challenging in Cuba since ice cream was hard to find. I had read online that the most popular ice cream parlor in Havana was Heladeria Coppelia, so I headed that way.
When I reached the parklet that housed the ice cream place, I was stunned to find a line that literally snaked around the entire city block. Hundreds of people were waiting upwards of 90 minutes just to get an ice cream cone. It might have been the most bizarre thing I've ever seen. This was just a small portion of the line:
Then again, the pace of life is much slower in Cuba. If you're out with the kids on a lazy Sunday afternoon, I suppose waiting in line for hours for ice cream might sound like a fun family activity. I was not willing to make that kind of commitment, which may have been the first time I ever bailed on ice cream. Sad face.
Enjoying California-Cuban cuisine at a local cafe
The most trendy, hipster establishment I found was a small place in the modern Vedado neighborhood that reminded me of a California beach cafe. Fittingly, it was called California Cafe. I got a veggie burger with fries for around $6, which was typical of prices in the Vedado area. Havana was so different from my world back home, but the 30 minutes spent at this cafe had a feeling of comfort and familiarity.
Though it was small and somewhat hidden a few blocks off the main street (Calle 23, or 'La Rampa'), the California Cafe seemed like a popular joint. They had a world map with pins from guests showing that people from all over the globe had visited.
A jazzy night in a basement bar
My friend wanted to check out some Cuban jazz, so we headed to La Zorra y El Cuervo, a basement bar on la Rampa. With a $10 cover and two drink minimum, the club was the most expensive place we visited in Havana, and the crowd was exclusively tourists, but it was worth it for the life experience of seeing jazz music in the heart of Cuba.
A small line of folks gathered outside the club before its 10 pm opening. Once inside the cozy venue, we found a table near the front and ordered drinks.
The music finally started at 11 with a multi-generational act featuring an older keyboard player and drummer and a much younger bass player and female singers. The music was simple, old-fashioned jazz and I couldn't think of a better way to spend the evening.
Don't order the spaghetti! Getting used to Cuban cuisine
While I wasn't blown away by the food of Cuba, most of the meals were fine. Except for the spaghetti. It seems as though spaghetti, pizza, and the Cuban ham & cheese sandwich were on the menus of just about every Cuban restaurant. All were very cheap (about $2-3 USD).
I ordered spaghetti a couple times, and it came with a small puddle of barely-there sauce hidden underneath shredded cheese. I would not recommend it. Same goes for the pizza, which had a weird-tasting sauce and oddly soft crust, as if it had been microwaved.
The ham and cheese sandwiches, though dry, tasted great. They were the perfect hearty food to have during a day at the beach. I ordered at least four during my week in Cuba.
Many of the rest of the meals were decent but not mind-blowing. The chicken and rice at Cafeteria Sofia was mediocre, but their fresh mojitos were fantastic and the people-watching from their patio was superb.
Hello from the other side of Cuba: Adele on Cuban television
I was curious how much pop culture Cubans are exposed to. Turns out, it's a lot. Cubans do have internet access, after all. I heard pop music being played in various places. Adele's "Hello" and Alicia Keys' "Girl on Fire" were played on the video screen at a local bar.
I flipped through the channels on the tv at my casa particular and found a handful of American movies. I was not expecting to come to Cuba and see Kirstie Alley, Keanu Reeves, and Hannibal Lector on tv.
I saw a local news broadcast discussing American news events, while another channel was broadcasting some international soccer game. Before visiting Cuba, I wondered if all Cuban television would be state-run propaganda, but that could not have been further from the truth.
Hablo español to catch the bus on Cuba's version of Greyhound
On the day I left Viñales for Havana, I was hoping to travel by Viazul bus instead of taxi. Viazul has nice buses with air conditioning and plush seats, and they're not very expensive ($13 between Havana and Viñales.) These buses often have to be booked in advance since they sell out, and the drivers and ticket sellers do not speak English.
I was told the morning bus was sold out, which would have meant an expensive cab ride. I hung around the bus with my pack and made it clear I was still interested in trying to get on, telling the guy during the boarding process, "Si tiene espacio para uno…" ("If you have space for one more…")
Just before the bus pulled away, I was allowed to purchase a ticket and made it onto the bus on one of the last available seats, which saved a good deal of time and money. I felt proud that the little bit of Spanish I knew had finally benefited me.
Rare American food sighting! Finding Pringles in Viñales
Obviously there are no McDonald's or Walmarts in Cuba. In fact, there aren't even American products on store shelves. The beer is Cuban, the soda is Cuban, the cereal and chocolate are Cuban.
I saw exactly two American products during my week on the island. One was Nestle chocolate ice cream, which was sold in pint-sized containers at a couple restaurants. I shared one with my friend at Sofia. Since I missed out at the ice cream at Heladeria Coppelia, the Nestle was my only taste of ice cream during the entire week.
The other American product I saw was Pringles in a small grocery in Viñales. They had about 100 canisters on the shelf. I have no idea how or why they found their way to this store, but I was excited to see a familiar product. Unfortunately, they were all sour cream & onion, which I do not enjoy, so I had to pass.
More Pictures of Havana and Cuba Life
Scroll down to see more Cuba photography and pictures from Havana. Enjoy the rest of the photo essay!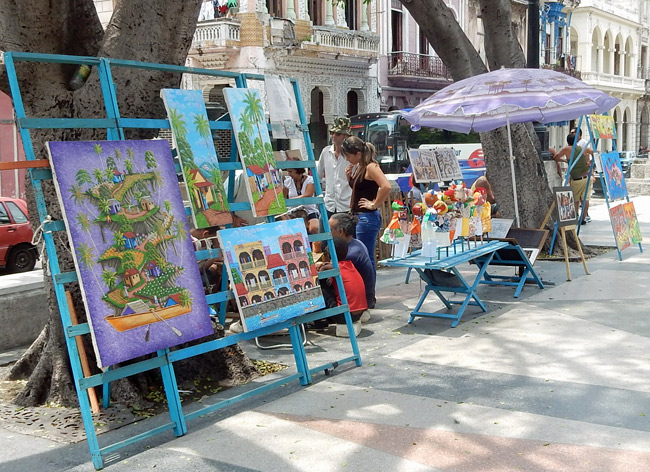 One of the streets in the neighborhood I stayed at my casa particular in Vinales.
Here's another source for images of Havana and Cuba photography. Cuba is clearly a photographer's dream since there are so many interesting and unique sights to capture in Old Havana and beyond.
And don't forget to check out our in-depth guide to visiting Havana.
Which are your favorites pictures from Cuba?