This summer while living in Mexico City, a friend and I took a week to head down to the beach towns of Mexico's southern Pacific coast. Mazunte, Zipolite, and Puerto Angel in the state of Oaxaca are not overrun by tourists like the country's more famous beach spots, so they are great places to have a more local experience while enjoying the sand and surf.
There's so much to write about from the week that I've broken it down into categories. Read on to learn about everything we encountered there, including great food, nude beaches, hippies, hikes, and very complicated commutes.
The tropical storm
As I headed for my beach vacation, I was blissfully ignorant that a tropical depression was bearing down on the Oaxacan coast. Upon arrival in Mazunte, it was raining nonstop. Businesses were closed, and few people were in the streets or in restaurants. We headed to the beach out of curiosity and the waves were huge.
For the first two days, it rained all day and even Mazunte's one tourist attraction (the Sea Turtle Museum) was closed, so there was little to do but walk around town and go hiking in the hills.
On night number two, despite the rain we partied in the hotel pool with some other travelers we had befriended. Suddenly all of the guests were called over to the office and informed that a storm was about to hit the town that night. Tropical Storm Beatriz, upgraded from a depression, was bearing down on the region and we should lock ourselves in our cabanas for the night.
It sounded scary, but ended up fine. The evening just brought more rain, nothing more. No frightening winds or anything like that. I wouldn't have known it was a tropical storm if they hadn't told us.
The next day, finally, the rain stopped as the storm moved away and the sun came out for the final five days of the trip. The storm did knock over a lot of trees which made roads impassable – thank goodness I didn't have to leave this town for several more days, because for the first 24 hours it was not possible to leave Mazunte.
The beaches
The funny thing about taking a beach vacation here is that you can't really enjoy the water too much. The waves are way too big and dangerous, even when there isn't a storm. Google searches reveal that a number of tourists have died in the Zipolite area from drowning in the ocean. Be very, very careful here!
While I didn't venture far into the waters at Mazunte and Zipolite, there is one beach that's a bit safer. It's in Puerto Angel, another nearby beach town.
We headed over there a couple times to the region's only beach with a roped-off swimming area. Lots of families were here and it was safe to venture out beyond the waves to hang out treading water at the deeper depths, which I love to do. Puerto Angel was definitely my favorite beach in the area since we actually got to have fun in the water.
They offer snorkeling here along the rocks – you can rent gear on the beach – but when we visited there wasn't anything to see because the water was still murky from the storm. The Puerto Escondido beaches are also great, but they were a bit too far away for us to visit in our limited time.
The food
Mexican food is awesome, but especially so in small towns where it's made for locals. Sidewalk merchants sold enchiladas at dirt-cheap prices, while slightly more expensive restaurants catered to tourists.
We alternated between traditional Mexican cuisine and some fancier places. One night dinner was at El Alquimista. The fresh fish dinner with mashed potatoes and grilled veggies was the most delicious meal of my trip. Even here, at one of the most upscale restaurants in the area, dinner with drinks was still only about $20 US per person.
The tlayuda is one of Oaxaca's most famous culinary delights. It's kind of like a larger tostada. A big tortilla is covered with beans, cheese, meat, and whatever else you want. Tlayudas are cheap and tasty.
My favorite snacks were the libritos at a small cafe in Mazunte. Each librito was a square bread pastry covered with chocolate chips with melted chocolate inside. And each one only cost 5 pesos (25 cents US)!
Lots of mojitos and other tropical drinks were consumed, and guacamole was a near-daily order. A cafe on the beach in Mazunte included cucumber in its guac, something which I had never heard of but which I found irresistible!
The hippie vibe
Before visiting I had read that Zipolite was a free spirited, hippie kind of town. It was to some degree, but I found Mazunte to have many more hippies. The long-haired surfers and ex-Americans turned Mexican beach bums were more abundant in Mazunte. Every business and restaurant was so laid back. Shoes and shirts optional, dogs wandering in and out of stores, chickens wandering around yards.
The coolest hippie experience we had was having dinner in the popular Zipolite outdoor beachfront restaurant Posada Mexico while a local band played Jason Mraz and Bob Marley cover songs. That felt like the beachiest moment of my life so far!
There was also a small but impressive amount of beach-themed street art on some of the side streets of Zipolite.
The hiking
Punta Cometa is the southernmost point of this part of Mexico, and there are several hiking trails through the woods that can take you there. We headed there during a break from the rain before the storm arrived.
The hike revealed some amazing views of hidden beaches and the surrounding mountains. I'll be publishing a later post with many more photos and instructions on how to get here, because it's a can't-miss spot for nature lovers.
There weren't a ton of other people on the trail, but there was this horse. We saw a guy some distance away who was apparently its owner. A random horse on a cliff next to the ocean is something you don't see everyday.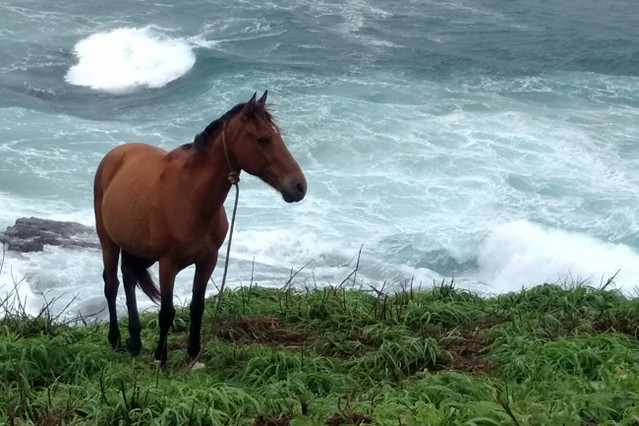 The colectivos
Getting between the three beach towns could be accomplished by taxi (usually cheap, around 40-50 pesos) or the local colectivo trucks (even cheaper, less than 20 pesos each). Since my friend is Mexican we were comfortable taking the colectivos most places.
These are mostly just pickup trucks with a big wire rack on the back with benches inside. They drive from town to town picking up whoever is on the side of the road waiting. When the benches fill up, people stand on the back bumper hanging off the truck.
The colectivo is one of those things that would never be allowed in the U.S. because it would be considered too dangerous and unregulated, but here it's a normal part of daily life and it was convenient for saving money.
The nude beach
Zipolite is known as Mexico's only nude beach. Not the entire beach is nude – just a small portion near the aptly-named Hotel Nude. Not many locals engaged in the nakedness, but a number of backpacking tourists did. Maybe a third of the people in this area decided to go without clothes – mostly guys, but a few women as well.
The weird part is that, like anywhere in Mexico, Zipolite has a bunch of beach vendors walking up and down selling trinkets, coconuts, tamales, hats, and just about anything else you can imagine. It was weird to see these vendors approach the naked tourists and engage them in conversation as if nothing was unusual about it.
The commute
Getting to this part of Mexico isn't easy. You can either take a bus to the city of Oaxaca, and then a 10-hour overnight bus, one which is notorious for making passengers throw up because of all the twists and turns.
Or, you can fly to Huatulco and take a series of buses and taxis from there. We chose the latter option. Flights were quite cheap – Mexico has budget airlines like Interjet and Viva Aerobus that offer seats at discount prices. I think ours were about $30 each way from Mexico City.
After landing in Huatulco – and getting the required butterfly photo – you can walk to the main road and wait for a local colectivo (cheap, but not ideal because there's not a lot of extra room in there for a suitcase.) The other option is to taxi.
A cab directly from Huatulco Airport to Mazunte/Zipolite will set you back something like 1000 pesos, more than $50 USD. If you have a few passengers maybe it makes sense, but that's way too much for the average traveler to pay.
I took a shared taxi into the town of Huatulco for 140 pesos and had the driver let me off at the Ado bus station. From there, I took a cheap (yet comfortable and air-conditioned) bus to Pochutla for only 30 pesos.
From Pochutla, the final leg of the journey to the beach involves a shared van ride or a taxi ride. My cab was negotiated for about 160 pesos. So in total, including flights, buses and taxis, I paid roughly $47 to get from Mexico City to Mazunte. Not bad at all!