When I lived in Mexico City, a friend and I took a week-long vacation down to the beach towns of Mexico's southern Pacific coast.
Mazunte, Zipolite, and Puerto Angel in the state of Oaxaca are not overrun by tourists like the country's more famous beaches, so they are great places to have a more local experience while enjoying the sand and surf.
Mazunte and Zipolite are known for their laid-back attitude and hippie spirit. These areas aren't super-crowded, but they do see a fair number of backpackers and adventurous travelers.
The main reason people come to the southern Oaxaca coast is to relax on the beach and get away from it all. Most of your time here will be spent lounging by the water and enjoying cheap, authentic local food and drinks.
But you can also visit museums, do some hiking, and take day trips to nearby communities. There's also a famous nude beach here, one of the only such beaches in the country of Mexico.
Read on to discover everything you need to know to take a Mazunte and Zipolite beach vacation. Learn how to get there, where to stay, which beaches to visit, and what to do once you arrive!
How to Get to Mazunte and Zipolite
Mazunte and Zipolite are about 6 km (3.7 miles) apart. Definitely check out both towns while you're in the area. Puerto Angel is another 3 km east of Zipolite, and it's worth a day trip via taxi.
Getting to this part of Mexico isn't easy. Typically, visitors fly into either Huatulco or Puerto Escondido. Fly to one of these airports from anywhere in Mexico (or from select cities in the USA and Canada.)
Mexico has budget airlines like Interjet and Viva Aerobus that offer cheap seats at discount prices. My plane ticket from Mexico City to Huatulco via Interjet was roughly $30 US. What a deal!
Directions From Huatulco to Zipolite:
After arriving at Bahias de Huatulco Airport (and getting your photo with the butterfly wings), you have a few options for getting to Mazunte and Zipolite.
1. Cheapest: Shared van from Huatulco
After landing, walk to the main road and wait for a local colectivo or pasajero (shared van) going towards Mazunte. This is not ideal for most travelers, because these buses tend to be crowded and may not have room for suitcases.
Also, the driver won't speak English, and you'll be making numerous stops along the way so it will take forever. But it is the cheapest route, costing $10 US or less.
2. Most expensive: Taxi directly from Huatulco Airport
Take a taxi straight from Huatulco Airport to Mazunte. This is the quickest option. It's about a one-hour drive from the airport. The downside is that it's by far the most expensive route.
When I visited, a cab directly from Huatulco Airport to Mazunte/Zipolite was about 1000 pesos, equal to about $50 US. If budget is not a concern, or you have a group of 3-4 passengers who can split the bill, then maybe the taxi makes sense.
3. Middle ground: Series of buses and taxis
This is the option I chose. From the airport, I took a shared taxi into the heart of Huatulco for 140 pesos ($7 US) and had the driver let me off at the Ado bus station.
From there, I took a cheap (yet comfortable and air-conditioned) bus to Pochutla for only 30 pesos. These buses run frequently and they're a great way to get around.
Pochutla is a cute little town and you may want to walk around a bit or grab lunch. When you're ready, the final leg of the journey to Mazunte/Zipolite involves either a shared van ride or a taxi ride.
I negotiated a taxi ride to Mazunte from a driver on the street for 160 pesos ($8 US). So my total cost was 330 pesos ($16.50 US) and it took about two hours from the airport.
That means I paid barely $45 in total to get from Mexico City to Mazunte, including my flight!
If you're so inclined, you can spend some time in the city of Huatulco before moving on to Mazunte or Zipolite. In Huatulco, you'll find beaches, bays, and historic ruins.
Directions From Puerto Escondido Airport to Mazunte:
The options from Puerto Escondido are very similar to the options from Huatulco: Take an expensive taxi directly there; take a cheap pasajero bus; or (recommended) use the bus and train together.
For the latter option, take a taxi from the airport to the ADO bus terminal in town. From there, buy an Ado bus ticket towards Huatulco or Pochutla, and get off at the OXXO at Route 175 ("Crucero de San Antonio.") Then, negotiate a taxi (should be roughly $5 US) the rest of the way to Mazunte.
Directions From Elsewhere in Mexico: Bus options
It's possible to travel to this part of Mexico on an overnight bus from the city of Oaxaca.
However, that ride takes 10 hours, and it's notorious for making passengers throw up because of all the twists and turns. I strongly advise against going that route.
Most other bus options will stop at one of the towns previously mentioned. Because flights on discount Mexican airlines are so cheap, I highly recommend just keeping things simple by flying to Huatulco or Puerto Escondido.
Recommended Mazunte & Zipolite Hotels
Altamira Mazunte: I stayed at Altamira because of its affordable prices and its location on the hill overlooking the ocean. I recommend these rooms, which are spacious and comfortable, and the small outdoor pool, which has great views.
Oyo Cabanas Abril (Mazunte): This one is a backpacker's best option. This hotel offers a full bed for as little as $26, depending on the season. You won't get all the comforts of a fancy hotel – there's a fan instead of air conditioning, for instance – but you will get a good location and free wifi.
Hotel Descalzo (Zipolite): One of the highest-rated hotels in Zipolite is Hotel Descalzo. Its higher prices reflect its level of luxury, with elegantly landscaped grounds, a private pool and a garden.
Hotel Nude (Zipolite): This is the clothing-optional resort right next to the nude portion of the beach. It attracts an international crowd and has a restaurant, bar, and swimming pool in addition to being a few steps from the nude beach.
Hotel Zipolite: For good lodging at an affordable price, try Hotel Zipolite. It's right in the heart of town, near the beach, and has air conditioning and free wifi. Double rooms go for as little as $40/night!
Other lodging options: You can sometimes find a cheap place to stay just by walking along the beach and looking for cabanas or bungalows. These can go for less than $10/night. You'll literally be sleeping on the beach in a thatched hut with the evening breeze blowing on you.
Airbnb does have some listings in the area as well, but since hotels here are so cheap, you might as well just book a hotel.
Mazunte and Zipolite Guided Tours
Some companies offer guided tours in the area that highlight the region's wildlife and natural wonders. Note that most of these tours originate in the town of Huatulco, so you'll have to follow the directions listed earlier to get yourself there.
Here are some excursions you may want to consider that are offered by the reputable tour company Viator:
Copalitilla Magic Waterfalls Tour: For a pretty affordable price, you can travel from Huatulco to the "Magic Waterfalls of Copalitilla," a picturesque series of falls in the jungle. Swim and take plenty of photos!
Mexican Cooking Class: Taking local cooking classes has become one of the most popular activities for travelers in foreign destinations. This one in Huatulco cover 3.5 hours and instructs guests how to make local dishes like sopes, homemade tortillas, tlayudas, and more.
Turtle Release & Bioluminescence: This tour takes guests from Huatulco to Puerto Escondido and the waters of Manialtepec. You'll visit a turtle sanctuary where baby turtles are released to the sea and witness the nightly bioluminescent phenomenon in the water.
Coffee Plantation and Waterfall Tour: This 3.5-hour excursion goes to the community of Llano Grande to see waterfalls and a coffee farm. You will be served a Oaxacan meal – and mezcal too.

See all of Viator's tours in the area here.
The Nude Beach in Zipolite
Zipolite is known for having Mexico's only nude beach. Not the entire beach is nude – just a small portion near the aptly-named Hotel Nude. It's not recommended to swim here, since the waves are so strong.
That may sound like a bummer, but please err on the safe side. Tourists have lost their lives here when the waves pulled them out to sea.
Not many locals engaged in the nakedness, but a number of backpacking tourists did. Maybe a third of the people in this area decided to go without clothes – mostly guys, but a few women as well.
If you're curious about sunbathing in the buff, this is definitely a chill and relaxed place to go for it.
The weird part is that, like anywhere in Mexico, Zipolite has a bunch of beach vendors walking up and down selling trinkets, coconuts, tamales, hats, and just about anything else you can imagine.
It was weird to see these vendors approach the naked tourists and engage them in conversation as if nothing was unusual about it.
Oaxaca Playas: Other Beaches in Mazunte and Zipolite
Further east away from the nude beach is the regular old Zipolite beach. You may hear the far eastern portion of Playa Zipolite referred to as Playa del Amor.
The funny thing about taking a beach vacation here is that you can't really enjoy the water too much. The waves are way too big and dangerous, even when there isn't a storm.
Google searches reveal that a number of tourists have died in the Zipolite area from drowning in the ocean. Be very, very careful here!
Mazunte has three distinct beaches separated by the twists and turns of a mountain outcrop known as Punta Cometa. Playa Riconcito is the main beach.
Playa Mermejita is more of a hidden beach on the other side of Punta Cometa. Playa Cometa is in a little cove near Punta Cometa and requires a walk down from the hillside.
Getting to Mermejita requires a hike (see the Punta Cometa section later in the post), but the reward is a private beach where you may be the only people there!
The beaches at Mazunte also have potentially dangerous currents, and great care should be taken if you plan to go into the water. Personally, I wouldn't risk it.
If you really want to swim or snorkel, head over to Puerto Angel for the calm beach in the cove. See the later portions of the article for more on the awesome beach at Puerto Angel.
Mazunte vs. Zipolite: Which Should You Visit?
Well, the answer is both, obviously. You'll want to experience the vibe of both towns!
If you're a member of the LGBTQ+ community, you may prefer to stay in Zipolite, as that's where gay tourists tend to congregate. Hippies and free spirits should probably spend more time in Mazunte.
Before visiting, I had read that Zipolite was a free spirited, hippie kind of town. That's true to some degree, but I found Mazunte to have many more hippies. The long-haired surfers and ex-Americans turned Mexican beach bums were more abundant in Mazunte.
So there isn't a massive difference between the cities, but gay folks and/or nudists will definitely want to spend plenty of quality time in Zipolite.
Things To Do in Zipolite and Mazunte
Sea Turtle Museum
Founded in 1991, Centro Mexicano de la Tortuga (Mexican Sea Turtle Center) is a small facility that has several species of turtle on display.
The center educates and informs visitors about the sea turtles in the area that were once hunted but are now protected.
Hours for the center are limited. At last check, the museum was open Wednesday through Sunday from morning until early afternoon, and admission was less than 40 pesos ($2 USD.)
In addition, thousands of turtles come ashore right on Playa Riconcito to dig holes and lay their eggs, starting around June.
This continues for several months, sometimes even as late as December, so if you visit then you may have a chance to see the circle of turtle life up close.
Check Out the Street Art
There was also a small but impressive amount of beach-themed street art on some of the side streets of Zipolite.
Make sure to look down alleys and explore the entire business district to check it out.
Soak Up the Hippie Vibe
Every business and restaurant was so laid back. Shoes and shirts optional, dogs wandering in and out of stores, chickens wandering around yards.
This is a place where you can put your phone away, start conversations with strangers, and fully immerse yourself in the relaxed environment.
Attend an Annual Festival
Circus Festival: This fest features workshops and performances and takes place in March in both Oaxaca and Mazunte.
Jazz Festival: The International Jazz Festival takes place in Mazunte in mid-November. It's one of the most popular festivals in the area and features well-known international acts, such as Grammy winners Los Amigos Invisibles.
Nude Festival: Naturists have another reason to come to Zipolite in February for the three-day Festival Nudista, which began in 2016. Events include yoga, volleyball, surf lessons, body painting, and hikes.
Tango Festival: A Tango Festival was held in Mazunte in April a few years back for folks into dancing. I haven't been able to confirm that this event is still taking place, however.
Hiking to Punta Cometa at Sunset
The main outdoor adventure in this area (that doesn't involve the beach) is hiking to Punta Cometa, an elevated cape jutting into the ocean.
Punta Cometa is the southernmost point of this part of Mexico, and there are multiple hiking trails through the woods that can take you there from Zipolite.
We headed to Punta Cometa during a break from the rain. The hike revealed some amazing views of hidden beaches and the surrounding mountains.
We randomly saw a horse at the top of the trail. There was a guy some distance away who was apparently its owner. A random horse on a cliff next to the ocean is something you don't see everyday.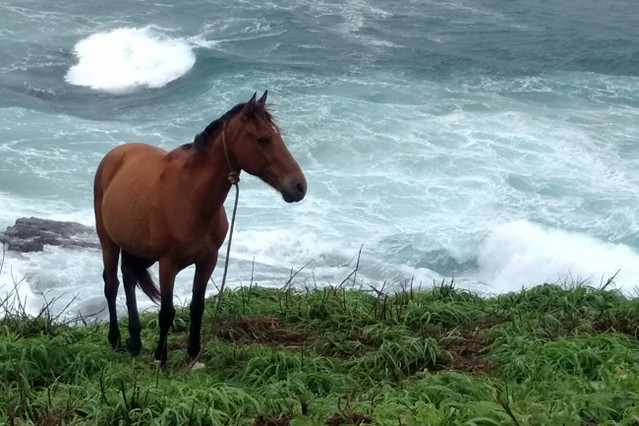 Punta Cometa is a very popular place to watch the sunset. During high tourist season, lots of other folks will be going there, so you can follow them. Bring water and bug repellant!
How can you get to Punta Cometa? Here's a look at the map showing Punta Cometa and its surrounding beaches.
The hiking trails are clearly noted. You can walk to the end of the beach at Playa Riconcito and take the trail up the side of the hill.
Or, if you're staying up on the hill by the Altamira Mazunte cabanas, you can take one of the other two trails on the street called Camino Mermejita.
This is sort of a back entrance to Punta Cometa, since it goes through the woods and comes around the other side of the hill. And it offers views of Playa Mermejita.
Either way, expect the hike to take about 20 minutes each way, so plan accordingly. Bring a flashlight for the walk back if you plan to stay past sunset.
Fun fact: The Aztecs built a stone wall around Punta Cometa and used it as a strategic military viewpoint. Centuries later, Spanish forces did the same.
Places to Eat in Zipolite & Mazunte
Mexican food is awesome, but especially so in small towns where it's made for locals. Sidewalk merchants sold enchiladas at dirt-cheap prices, while slightly more expensive restaurants catered to tourists.
We alternated between traditional Mexican cuisine and some fancier places. One night, dinner was at El Alquimista in Zipolite.
The fresh fish dinner with mashed potatoes and grilled veggies was the most delicious meal of my trip.
Even here, at one of the most upscale restaurants in the area, dinner with drinks was still only about $20 US per person.
The tlayuda is one of Oaxaca's most famous culinary delights. It's kind of like a larger tostada. A big tortilla is covered with beans, cheese, meat, and whatever else you want. Tlayudas are cheap and tasty.
Lots of mojitos and other tropical drinks were consumed, and guacamole was a near-daily order. A cafe on the beach in Mazunte included cucumber in its guac, something which I had never heard of but which I found irresistible!
My favorite snacks were the libritos at a small cafe in Mazunte. Each librito was a square bread pastry covered with chocolate chips with melted chocolate inside. And each one only cost 5 pesos (25 cents US)!
There are tons of places to eat in Zipolite. I advise just walking down the main streets and picking one.
For those who prefer to plan ahead, here's a quick rundown of some of the more popular places to eat in the area:
El Alquimista (Zipolite): As noted above, this is an upscale restaurant with indoor + beach seating. Go in the evening and your beach table will be lit by candle. Nice setting and excellent food!
La Providencia (Zipolite): Another upscale establishment. This one's a bit more expensive, but that's to be expected from a place serving dishes such as prime beef medallions and coconut shrimp.
Sal y Pimienta (Zipolite): A basic café located on the beach. It's known for burgers, fish, and beer, and prices are reasonable.
Posada Mexico (Zipolite): A nice Italian place near the beach. A lot of visitors rave about the pizza. I went with a ravioli dish and was quite satisfied. We ate while a live band played Bob Marley and Jason Mraz covers. It was a total hippie vibe! I came back a couple days later and had a great American breakfast.
Estrella Fugaz (Mazunte): Busy place at breakfast with an ocean view. Fish and salads are among the more popular dishes for lunch and dinner.
El Pescador (Mazunte): Decent seafood dishes right on the beach. Not amazing quality, but good enough to fill you up while you're sunbathing.
Nearby Towns in Oaxaca: Puerto Angel, San Agustinillo, Puerto Escondido
San Agustinillo:
San Agustinillo is a small little community between Mazunte and Zipolite. It has a beach, a couple restaurants, and a few hotels, such as La Termita and Un Sueno Cabanas del Pacifico.
Avoid Playa Aragon on the eastern end of town due to its strong undertow.
Puerto Angel:
Puerto Angel is the best spot for swimming and snorkeling. Take a colectivo van or cheap taxi ride over there and enjoy the little cove area.
We headed over there a couple times to the region's only beach with a roped-off swimming area.
Lots of families were here and it was safe to venture out beyond the waves to hang out treading water at the deeper depths, which I love to do.
Puerto Angel was definitely my favorite beach in the area since we actually got to have fun in the water.
They offer snorkeling here along the rocks – you can rent gear on the beach – but when we visited there wasn't anything to see because the water was still murky from a storm.
Puerto Angel is very small. There are just a few restaurants on the beach, but they're good enough to satisfy your craving for tropical drinks and good Mexican food.
Puerto Escondido:
With a population of 45,000 Puerto Escondido is a bigger city than the others mentioned here. As noted earlier, it has its own airport so you can fly directly there. It's worth spending a couple days here if your schedule allows.
The Puerto Escondido beaches are great, and they tend to be the go-to destination for travelers who are interested in surfing.
Tips and FAQs about weather, crime, transportation
What time of year should you visit Mazunte and Zipolite?
If there's a particular festival you want to attend, obviously come during that time. If you want to see sea turtles depositing their eggs onshore, plan a visit between June and December.
Otherwise, just come whenever it's convenient. This is one of those rare places where the temperatures are steady all year long. High temps average 90-92 F (32 C) every month of the year and low temps average 72-77 F (22-25 C.)
There's virtually no rain from December through April. The months of June through October see between 5-10 days of rain each, so it's slightly wetter then.
Are Mazunte and Zipolite dangerous?
Over the years there have been scattered reports of crime in these areas, sometimes through word of mouth and other times through newspaper reports in Spanish.
It doesn't appear that these areas are particularly dangerous more than the rest of Mexico. The gang and cartel violence that has plagued certain parts of Mexico is definitely not happening regularly here.
There is sometimes theft in the beach hotels and cabanas, so be vigilant about your belongings. It's never a bad idea to spread out your money and credit cards in more than one place – that's true of traveling anywhere, not just Mexico.
How can you travel between Mazunte, Zipolite, San Agustinillo, and Puerto Angel?
Getting between the beach towns can be accomplished by taxi (usually cheap, around 40-50 pesos) or the local trucks (even cheaper, less than 20 pesos each).
The trucks are alternately known as colectivos, pasajeros, or camionetas.
These are mostly just pickup trucks with a big wire rack on the back with benches inside. They drive from town to town picking up whoever is on the side of the road waiting. When the benches fill up, people stand on the back bumper hanging off the truck.
The shared truck is one of those things that wouldn't be allowed in the U.S. because it would be considered too dangerous and unregulated, but here it's a normal part of daily life and it was convenient for saving money.
Are Mazunte and Zipolite LGBT-friendly?
Yes. There aren't any attractions or businesses specifically for the LGBT community, but many gay folks do visit here. As you'd expect from a place with a hippie vibe, folks here are friendly to all types of people.
Mexicans in general tend to be indifferent on the issue of sexual orientation these days. Same-sex marriage is legal in the state of Oaxaca, which includes these cities.
My visit to the Oaxacan coast during a tropical storm
Here's a personal account of my visit to the area a couple years back.
I headed for my beach vacation, blissfully ignorant that a tropical depression was bearing down on the Oaxacan coast.
Upon arrival in Mazunte, it was raining nonstop. Businesses were closed, and few people were in the streets or in restaurants. We headed to the beach out of curiosity and the waves were huge.
For the first two days, it rained all day and even the Sea Turtle Museum was closed, so there was little to do but walk around town and go hiking in the hills.
On night number two, despite the rain we partied in the hotel pool with some other travelers we had befriended. Suddenly all of the guests were called over to the office and informed that a storm was about to hit the town that night.
Tropical Storm Beatriz, upgraded from a depression, was bearing down on the region and we should lock ourselves in our cabanas for the night.
It sounded scary, but ended up fine. The evening just brought more rain, nothing more. No frightening winds or anything like that. I wouldn't have known it was a tropical storm if they hadn't told us.
The next day, finally, the rain stopped as the storm moved away and the sun came out for the final five days of the trip.
The storm did knock over a lot of trees which made roads impassable – thank goodness we didn't have to leave this town for several more days, because for the first 24 hours it was not possible to leave Mazunte. We just hung out and relaxed in town while the storm passed.
If you've ever done a Mazunte or Zipolite beach vacation and have additional tips to offer, leave a comment!