The place to find the heart of Africa in southern Texas is the Natural Bridge Wildlife Ranch near San Antonio. It's a drive-thru zoo!
Giraffes and rhinos wander around. Ostriches stick their heads inside your vehicles. And the zebras get all up in your face catching food you toss out your car window.
There's a small walking section at the Natural Bridge Wildlife Ranch, but for most of the visit you remain in your cars, much like an African safari.
Admission to the drive-thru zoo now costs $30 per adult and $20 per child. Guests are given a small bag of food to pass out to the animals of their choice.
The giraffes are behind fences right at the entrance.
Past the giraffes, it's on to the Tatonka Range, a collection of horned animals from Africa. Be sure to drive slow because many of the animals like to stay very close to the road.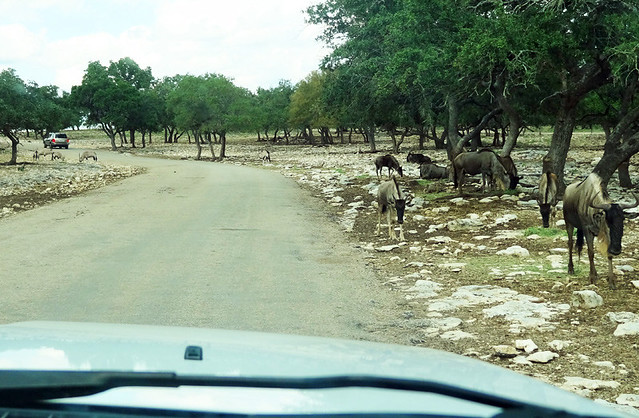 The horned animals don't seem to respond to the food pellets. They prefer to eat their own grasses.
The waterbuck is a 500-pound animal with 26-inch horns. You probably don't want him approaching your ride anyway.
The ranch tosses in one local Texas favorite, the longhorn. These guys came from Mexico via Spain and England.
A much smaller animal is the springbok, a 70-80 pound critter that can jump as high as 10 feet. I wish I could see one jumping around, but on this day they're pretty lazy.
After the Tatonka Range comes the Kenyan Preserve region, which features more horned animals and the famous zebras, probably the most popular animal here.
Save your food bag for the zebras and go nuts feeding the striped critters wandering between the cars.
I got to see plenty of African animals during my visit to that continent. But I didn't get to see them this close!
You're not supposed to feed zebras by hand, because their bite can be vicious. But some zebras will come right up to your window and let you toss food pellets into their mouths. These kids will bare their gums for a bite to eat!
Next up was the Massai Savanna section, home to several flightless birds like emus and ostriches.
Who knew ostriches are eight feet tall? They came right up to the window of our pickup truck.
I caught this addax at a watering hole with its crazy spiral horns. The addax is a highly endangered species from Africa that weighs around 200 pounds.
Depending on what sort of mood the animals are in, you may also get to see llamas, donkeys, camels, wildebeests, and American bison.
Give yourself at least 45-60 minutes to get through the Natural Bridge Wildlife Ranch. Chances are you'll want to pause and watch the animals rather than racing through.
Here's the official website for the ranch. The drive thru safari ranch is open 9 am to 5 pm most days, with shorter hours (9 to 4) during the winter, and extended hours (9 to 6) on summer weekends.
It's much like a zoo, but you get to stay in your car and see the animals from a closer distance. Drive-thru all the way!
WANT MORE WILDLIFE ARTICLES? Check out my recap of the San Diego Zoo, the experience of seeing wild mountain goats in Glacier National Park, cage diving with sharks in Hawaii, getting kissed by a giraffe at the Giraffe Centre in Kenya, and my magical tale of walking with wild rhinos in Zimbabwe.
See also my article for a road trip from San Antonio to South Padre Island in southern Texas.