Museum of World Treasures
Location: Wichita, Kansas (835 E. 1st St.)
When to visit: 10 am – 5 pm daily (12-5 pm on Sundays)
Cost: $9.95 adults / $7.95 kids
Time needed to enjoy: 30-60 minutes
Website: www.worldtreasures.org
What You'll See at the Museum
The Museum of World Treasures in Wichita, Kansas is truly a bizarre place. They have a nice collection of artifacts that have nothing to do with each other.
They've gathered up as much old stuff as they could get their hands on, then put them all together under one roof and tied them together by calling them "world treasures."
To wit, you walk in and see a giant dinosaur skeleton (which is unfortunately only 60% real).
And right across from the dinosaur is a piece of the Berlin Wall.
Both cool exhibits, right? But the lack of cohesion is jarring. It's enough to make your head explode.
Wichita evidently isn't large enough to support a separate Science Museum, Sports Museum, Pop Culture Museum, Art Museum, Astronomy Museum, and History Museum, so they've essentially combined them all into one.
That's the Museum of World Treasures. It's kinda clever, but also really weird.
Allow myself to share some more examples of the insane scope of this facility. They have an Egyptian mummy from around 1000 BC (she had braided hair, stood about 4'10" and was in her late 20s when she died)…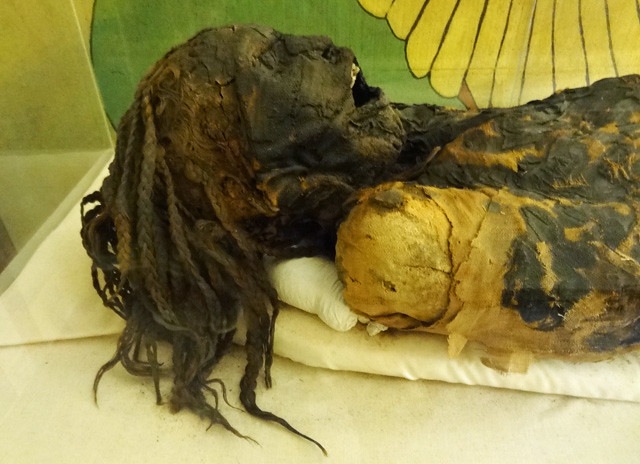 …lots of art from the Far East, including ancient Buddha statues…
…a Babe Ruth-signed baseball…
… Marilyn Monroe's purse and gloves…
… and fossilized dinosaur poop.
Other sights include a 3 million year old mastodon tooth, a Korean War video featuring the soothing voice of Robert Stack on narration, a 34-star American flag dating between 1861 and 1863, Lucille Ball's pearl necklace, and the pitchfork used in the movie The Wizard of Oz.
And, of course, General Custer's britches right where they belong, next to a bison skull. Yes, these are the long underwear worn by Custer well before he made his last stand.
And here's a genuinely cool sight: A fossil showing one fish eating another. That's a Mioplosus labracoides, a member of the perch family, gulping down a Knightia eocaena, a little herring-like fish.
It's an action photograph from 50 million years ago!
I joke about the Museum of World Treasures being weird, but it's actually fascinating to see all of these artifacts gathered together.
Current exhibit areas include: Sea Creatures of the Plains, Rocks and Minerals, Ancient Egypt, Fossil Gallery, Hall of Presidents, Civil War, Pop Culture, and Old West. That's three floors of delights to explore!
From World War II memorabilia to George Foreman's boxing gloves, the Museum of World Treasures will leave you scratching your head.
Museum of World Treasures Admission Price, Hours, and More
As of 2023, admission price is $9.95 for adults, $8.95 for seniors, $7.95 for kids up to age 12, and free for kids 3 and under. Tax is not included. Prices haven't gone up in several years, which is good news!
The museum offers a family pass good for two adults and two children for $32.95. They also offer behind-the-scenes tours on weekends and VIP experiences such as "Midnight at the Museum" camp-ins.
The facility is open 10 am to 5 pm everyday except Sunday, when it's open from noon to 5 pm. These are pretty generous hours, so you shouldn't ever have a problem finding a time to visit.
The museum is actually a nonprofit organization that hosts programs and events such as "Little Explorers" and "Culture With Cocktails."
If you find yourself in Wichita, make a stop here for sure. This place should go on any list of things to do in Wichita, and on every Kansas road trip itinerary.
And don't forget to check out the Keeper of the Plains sculpture. Elsewhere in the state, you can find Equality House next to the Westboro Baptist Church in Topeka, and the exact center of the United States in Lebanon, Kansas.