The Music City Walk of Fame
Location: Nashville, Tennessee (4th Ave S. & Demonbreun St.)
When to visit: Any time during daylight hours
Cost: Free
Time needed: 15 minutes
Website: www.visitmusiccity.com/walkoffame/
Like St. Louis, Nashville has its own Walk of Fame. The Music City version focuses solely on music, honoring those who have made contributions to the Nashville music scene with stars in the sidewalk.
The Music City Walk of Fame is in a park across the street from the Country Music Hall of Fame, so you may think all the honorees are country artists. That's a reasonable assumption when you pass names like Reba McEntire, Alan Jackson, and Dolly Parton.
But then you'll see a name that stops you in your tracks.
What connection does Seattle-born Jimi Hendrix have to Nashville? Turns out he lived there in 1962 after he completed military service nearby. Who knew? Hendrix, of course, has his own statue in Seattle.
Other non-country Nashville stars recognized at the Walk of Fame include Michael McDonald, CeCe Winans, Kid Rock, Amy Grant, and Kings of Leon. That's an impressive bunch of music-makers who all have connections to the area!
Be sure to get photos of your fave stars of Nashville. Somebody's a Kris Kristofferson fan.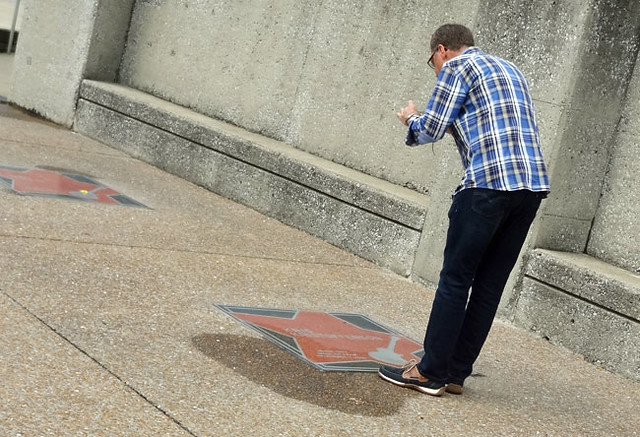 Also honored with a star is rock & roll originator Little Richard. You may even bump into Richard, since he lives in the Hilton Hotel located right next to the park. Woooooooooo!
If you're making a music pilgrimage to downtown Nashville to visit the Country Music Hall of Fame and historic Studio B, make sure to check out the Music City Walk of Fame too!
Inductees in the Nashville Music City Walk Of Fame
The Nashville Convention and Visitors Bureau first had the notion to create a Walk of Fame for its musical heroes, and that turned out to be a fantastic idea! Few cities have the extensive musical history to be able to pull off an attraction like this.
The Walk of Fame essentially replaced StarWalk, which was a similar concept that existed in Nashville in the '80s and '90s. That walk specifically honored Grammy winners, and it was removed in the '90s and the plaques moved to the Grand Old Opry grounds.
The first group of Music City Walk of Fame inductees in 2006 included Reba McEntire and Roy Orbison. The following year, Jimi Hendrix, Vince Gill, the Crickets, and Michael W. Smith were among those enshrined.
Noteworthy inductees over the next five years included Martina McBride, Michael McDonald, Dolly Parton, CeCe Winans, and Steve Winwood.
The Walk of Fame stopped inducting folks for a couple years during construction. The attraction returned in 2015 with the induction of two incredible performers, Jack White and Loretta Lynn. They collaborated on Lynn's brilliant 2003 album Van Lear Rose.
Ceremonies continued thereafter, with artists such as Garth Brooks, Miranda Lambert, Faith Hill, Tim McGraw, Kenny Rogers, and Little Big Town earning induction.
Among the most recent honorees were Ben Folds, Brenda Lee, and Ray Stevens (2018) and Lady Antebellum and Clint Black (2019.)
Check the site's Wikipedia page for the complete list of inductees.
By the way, Nashville is one of my recommended road trip destinations from Chicago, so I advise everyone in the Midwest to consider a visit there!
Have you ever visited the Music City Walk of Fame?