With a landscape of fire and ice, underground turf houses, museums dedicated to witchcraft and animal parts, and lots of unusual foods, Iceland is a really unique and quirky place.
Here's the photographic evidence: 46 images from the island nation, covering everything from the street art to the weird roadside attractions. This is unique Iceland as you may not have seen it before!
Of course, Iceland is a place where you can stand between tectonic plates:
And you can park in the shadow of some incredible mountains:
And you can pose next to massive waterfalls:
And if you're really lucky, you can see the Northern Lights!
But this photo collection aims to uncover the lesser-seen side of Iceland. Scroll on to see all the pics!
Iceland Photo Essay
Let's rewind a bit and present some images in order, as they happened on my Iceland road trip.
The weirdness starts right at the airport with a giant puffin bursting through the ceiling at baggage claim:
Cities like Reykjavik and Akureyri have giant trolls on their sidewalks.
And other weird statues, like this blockhead businessman:
Here's a totally unique Iceland experience: Whatever vehicle you're driving, watch out for the sheep traffic jams!
Most of the time, the sheep will just stay on the side of the road, making weird faces and running away when you try to approach them.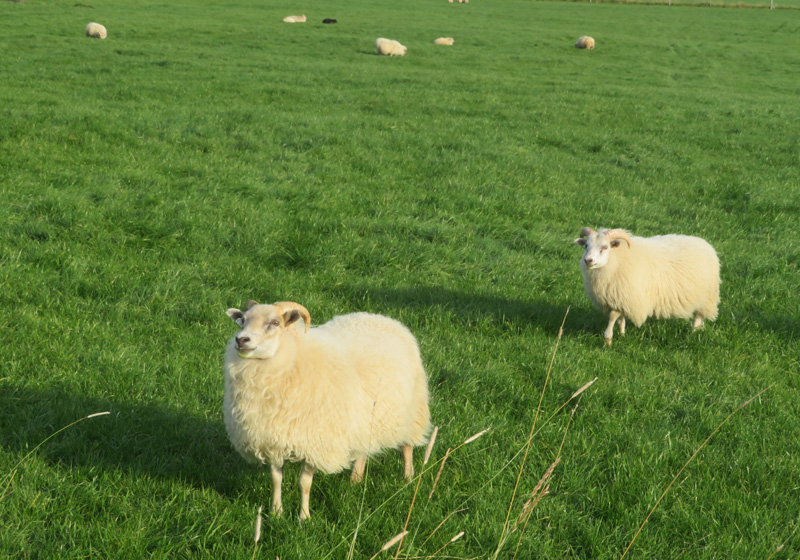 Driving can be a challenge due to all the blindhaeds!
This car got stuck in a ditch along a gravel road. Good luck to whomever had the job of getting it back on the road!
It's Bjork Road! Probably not named after the kooky singer, but who knows? "Bjork" is the Icelandic word for birch, so maybe there are a lot of trees down this street.
Further proof of Iceland's weirdness. As described at the Icelandic Sorcery and Witchcraft Museum, some people used to try to cast magic spells by stuffing a piece of wood into the mouth of a ling, an evil-looking fish.
Speaking of bizarre museums, the Museum of the Phallus proudly displays in jars the private parts of whales, dolphins, and dozens of other animals.
You read that correctly – it's a museum dedicated to animal genitals!
The Iceland Punk Museum invites guests to sit down and bash the drums. Punk legend Johnny Rotten helped to officially open the place in 2016.
Ah yes, it's the age-old "Jórvíkurskarð vs. Berufjarðarskarð" hiking dilemma!
Souvenir alert! Here's Bjork liqueur, made from the country's finest birch!
Campervan rentals are a big thing in Iceland. Some companies go the extra mile by customizing each van with a different theme.
Another way to get around in Iceland is by amphibious vehicle. Join one of the tours at Jokulsarlon Lagoon to see the glaciers up close. A stop at Jokulsarlon is a must on any south Iceland itinerary!
Sit on some glacial ice on the black sand at Diamond Beach.
Or grab some in your hand and marvel at how old it must be.
Or put on a wetsuit and go surfing! A couple of brave (or crazy) surfers paddled out to try surfing between the ice chunks at the beach. It didn't go well.
You can hike on the glaciers, but the signs will warn you to go with a group tour or the appropriate equipment.
Reynisfjara Beach has a large board warning visitors to beware of huge waves coming out of nowhere. There's even a news story on the board about a tourist drowning here.
More warning signs! Keep your cameras out of the streams, because the fish here are divas and they do not want your electronic equipment intruding on their space.
The cool part about Iceland is that the best roadside attractions are natural features. This little stream has mini waterfalls and rushing water even though it's only a few inches deep.
Some restaurants serve fermented shark cubes. No, they do not taste good.
Do some forest hiking in eastern Iceland and you might come across wild mushrooms. Consume at your own risk!
The coastlines are so beautiful in Iceland. You'll want to bring a camera. Just be careful not to fall off the edge. This guy was perilously close!
You may remember the 2010 Eyjafjallajökull volcano eruption that shut down air travel in Europe for several days due to the ash cloud.
There's a roadside marker showing a reminder of what the sky behind this farm looked like after the eruption.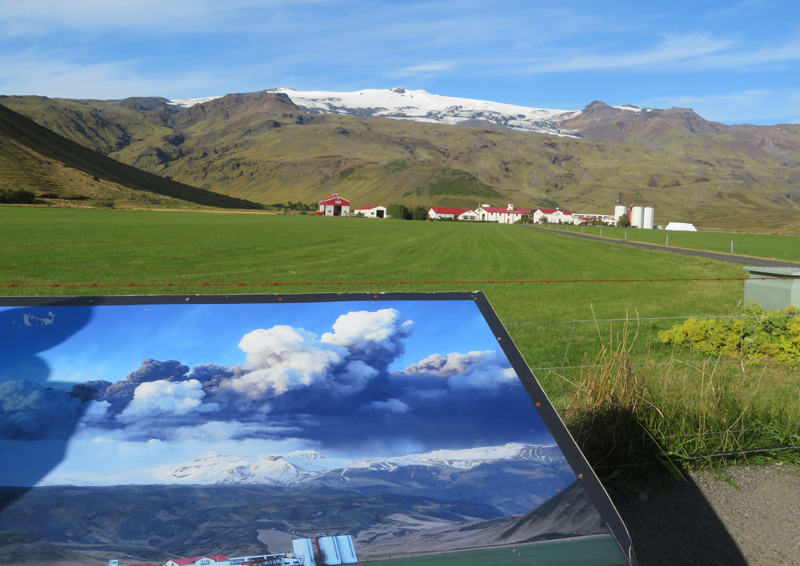 That town has a large lake with an abandoned ship. I really wanted to take northern lights photos here because they would have been amazing with the ship in the foreground. But sadly the lights didn't come out that night.
And of course there's the famous US Navy plane crash of 1973. The wreckage is a popular tourist attraction these days, even though it requires a 45-minute hike each way.
(Related reading: See the Miss Piggy plane crash in Churchill, northern Canada.)
These turf houses are somewhat modern. If you search hard enough while driving around Iceland, you can actually find even cooler turf houses built right into the hillside.
This weird piece of scrap metal was a roadside attraction on the southeast portion of the Ring Road. I think it might have been part of an old bridge. Now it's a scenic spot to pose in front of glaciers and mountains.
Another scenic outlook! This one has a red chair bolted down to a rock so you can sit and chill in the great outdoors.
Here's a Smurf house! Located in the town of Holmavik right near the Sorcery Museum.
How cool would it be to look out your back window and see two waterfalls everyday?
Iceland is one of the few places you can walk down a staircase into a volcano crater.
Here's another weird discovery in Snaefellsjokull National Park. Known as the "Well of the Irish," this well was used for centuries before being abandoned and forgotten around 1940. It was unearthed again in 1989.
In towns outside Reykjavik (where more than a third of the Icelandic population lives), businesses sometimes have to fulfill multiple uses. Like this hostel/restaurant/laundromat/bar in Akureyri.
Also from Akureyri is this food stand whose logo is a cannibal hot dog. Stop eating yourself, silly girl!
In addition to the fermented shark (not so delicious…), traditional Icelandic restaurants are the place to find tasty rye bread ice cream. The little bits of bread give it a cookies & cream consistency.
It's a challenge to eat cheaply in Iceland, but you can find some affordable snacks in gas stations and convenience stores.
Shopping for snacks was interesting because of the potato chip flavors like Cheese Onion and Paprika (my new favorite!) Also, they sell Reese's cups in 3-packs, which just seems odd to us Americans.
I wonder if Chuck Norris knows his name is attached to this eatery in the heart of downtown.
Because of the earthquake threat, skyscrapers in Iceland don't get much bigger than these buildings in the capital. What a cool-looking collection of Reykjavik skyscrapers!
Check out the awesome street art-like exterior of this lion coffee shop.
Renowned Viking explorer Leif Eriksson stands outside the famous Hallsgrimkirkja church.
From the top of the church, Reykjavik looks cute and colorful.
We'll finish up with perhaps the most famous quirky and unique Iceland attraction, the Sun Voyager sculpture near the water in Reykjavik. It looks even better when the sun is actually in the sky!
What's your favorite unique Iceland attraction?